#OURHAWKERCULTURE INTERACTIVE STICKER BOARD (PRE-ORDER)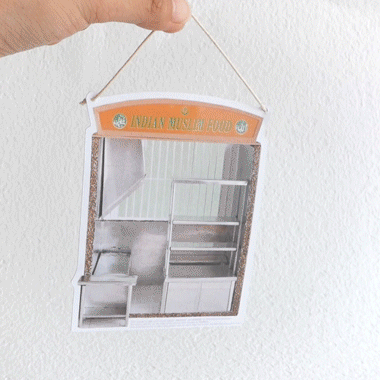 #OURHAWKERCULTURE INTERACTIVE STICKER BOARD (PRE-ORDER)
This listing is a preorder, please order only if you're okay to wait 3-4 weeks before your purchase reaches you!
An interactive sticker board to commemorate the miniature hawker centre diorama I've made in collaboration with AICLAY and MSPARKPARK. You can watch the whole process for most of the miniatures featured in the sticker pack HERE!
What you will get in one listing:
・1 x High quality textured 250gsm board
・1 x #ourhawkerculture sticker pack (satin finish - see the finish here.)
・Lotsa fun and a decoration piece at the end!
These sticker board and stickers pack are illustrated, cut, assembled, packed, and delivered by handxmade! As a result products may have subtle variations or imperfections.
Do note that all prices are in USD.
Dimensions: approx. 11cm (+3cm height of cord) x 8.5cm
As all monitors are calibrated differently, colours may vary from display to display.

If you're a patron on my Patreon, remember to use your discount code, and remember you can also redeem it from the Reward Vault if you have enough points! 💖(To know what the Patreon point system and what Reward Vault is, please visit https://handxmade.com/faq)
sold out