"TIME OF THE MONTH" PLANNER STICKER PACK (PRE-ORDER)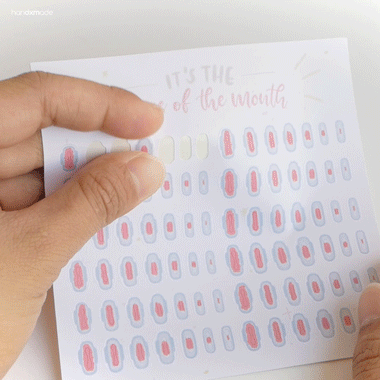 "TIME OF THE MONTH" PLANNER STICKER PACK (PRE-ORDER)
This listing is a preorder, please order only if you're okay to wait 3-4 weeks before your purchase reaches you!
The first planner sticker pack I made! 💖
I wanted to make a planner sticker to track my period without taking much space out of the planner to write all the other important appointments. These are small yet does the job well 😌
There are 12 sets of period, each set having 7 different illustration of different progress during your period (I'm thinking of all you girls who has 7 days period 💕). Which means this one sticker pack can last you ONE WHOLE YEAR!
These stickers pack are illustrated, cut, packed, and delivered by handxmade! As a result products may have subtle variations or imperfections.
Do note that all prices are in USD.
There are three types of finish for the stickers - Transparent (glossy + waterproof), Matte, and Satin. See the finish here.
Dimensions: 10cm x 10cm (Easily fit into an A5 planner!)
The sticker packs have rounded corners, as seen in the first photo!
As all monitors are calibrated differently, colours may vary from display to display.

If you're a patron on my Patreon, remember to use your discount code, and remember you can also redeem it from the Reward Vault if you have enough points! 💖(To know what the Patreon point system and what Reward Vault is, please visit https://handxmade.com/faq)
sold out